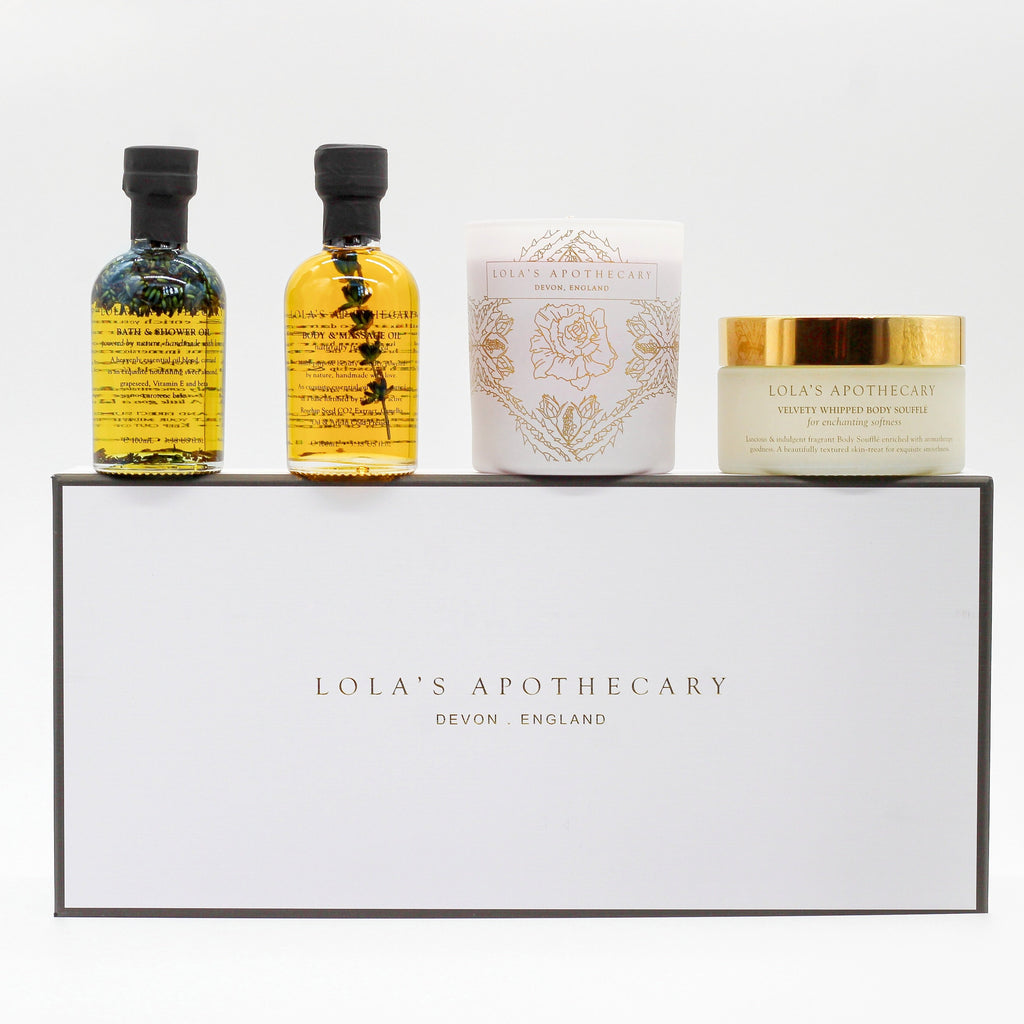 A Fragrant Journey
£160.00
Abundant Gifts
Balance
Relaxation
Gourmet Wellness
This is the ultimate Lola's Apothecary at-home-spa experience, richly presented in our majestic gift box with its minimalist elegant exterior & striking botanical interior designed by renowned illustrator Deborah Panesar. It is a fest for the senses for bath, body & mind! This collection takes you on a journey through 3 of our strikingly different fragrances composed of 100% essential oils. This bountiful box, powered by mother nature is perfect for the discerning queen in your life in need of the ultimate pampering. Run that hot steaming bath, light the candle, dim the lights & enjoy a little fragrant bliss. We'll include a beautiful handwritten illustrated note card with any special message you wish to leave in the 'notes' box at checkout!

- Delicate Romance Balancing Body Soufflé (200ml) 
- Sweet Lullaby Soothing Body & Massage Oil (100ml) 
- Sweet Lullaby Naturally Fragrant Candle (220g, 45hr + burn time)
- Tranquil Isle Relaxing Bath & Shower Oil (100ml)
- Clementine Calamity Relaxing Wellness Tea Bags 

Combined Retail value over £180


Delicate Romance is our balancing fragrance. A symphony of gorgeous roses laced with warm spices & uplifting citrus. A sumptuously feminine fragrance that opens with citrus top notes of sweet orange & lemon, leading to a blooming heart of rose and geranium, to be warmly embraced by vanilla, patchouli & sandalwood in the base notes. 

This collection features our award winning Body Soufflé in Delicate Romance fragrance.

We whip together shea butter, coconut oil & rosehip CO2 until it becomes a feather light fluffy soufflé that melts on your skin, unleashing a heavenly cloud of pure essential oil fragrance. It's like being hugged by a velvety cocoon, you'll be mesmerised by the enchanting softness of your own skin, while feeling blissed out in aromatherapy goodness. Wonderful for after sun care as well as dry, winter skin. Also great for protecting delicate skin after shaving or waxing. 100% natural & vegan friendly.






This beautiful collection also includes 3 of our best selling products to help soothe & relax tired bodies & minds. Enjoy our beautiful hand-poured natural candle & golden Body & Massage Oil in our Sweet Lullaby blend - our 'hug-in-a-bottle' fragrance to gift you a momentary retreat from the vivid dance of life with notes of lavender, vanilla, patchouli, ylang ylang & a fleeting sweet orange top note. Our Sweet Lullaby Body & Massage Oil has a powerful alchemical base blend of nourishing 

rosehip CO2 Extract, argan oil, camellia oil, peach kernel oil & almond oil bliss & is a multi-purpose beauty wonder for skin, hair & nails. A candle-lit massage is calling. For those looking for a deeper relaxation, you can drift off in the tranquility of our Tranquil Isle Bath & Shower Oil. Just a few drops in your tub will transport you to a place of peace. This blend contains beautiful natural sedatives camomile & lavender, with an earthy base of cedarwood & vetiver with a fleeting lemon top note, composed of the finest essential oils.






Our adaptogen-enriched wellness tea shows you the kind of delicious alchemy possible when wellness marries pleasure. Enjoy 5 teabags in our relaxing Clementine Calamity herbal blend.








Related products