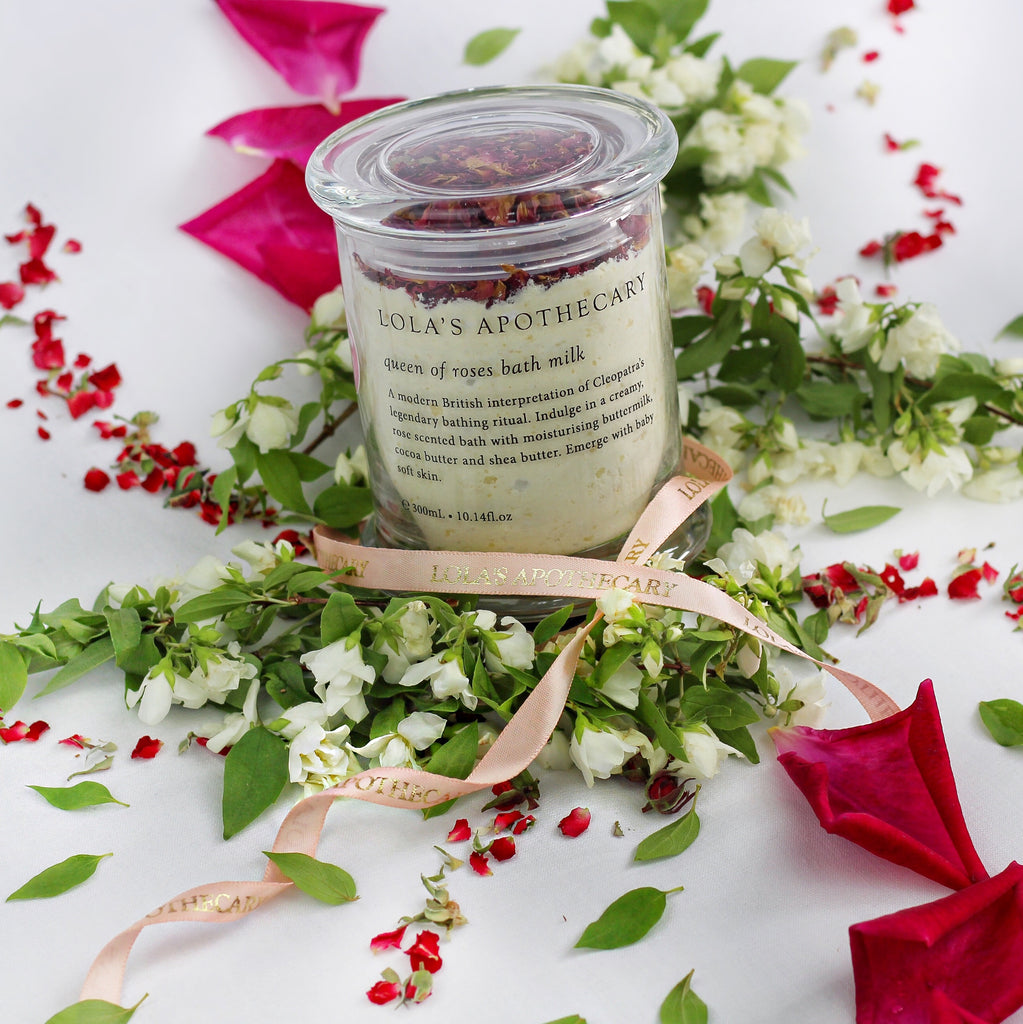 Queen of Roses Bath Milk
£74.00
Bathing Ritual
Healing Ingredients
How To Use
Wellness Tips
Float away as the Queen of Roses amidst strewn rose petals & emerge from your bathing ritual. Delight in intensely nourished velvety skin, from a creamy buttermilk, shea butter & cocoa butter fragrant blend. Be renewed by blissful geranium, antioxidant rich vanilla clouds, subtle hints of chocolate & soothing yet lavish rose notes.

Be enchanted by your regal rose-scented spa at home & breathe deeply for a beautiful inhalation as you delight in your own aromatherapy cloud.

Inspired by Cleopatra's bathing decadence & natural beauty, The Queen of Roses arrives as our most decadent bathtime creation. Emma Watson, the beloved Belle, adores our 100% Queen of Roses Bath Milk. Her fans from around the world have been known to crash our website trying to order it! It's a labour of love, & we make everything by hand on our picturesque family estate in Devon.

Be Inspired...

Light a candle on the edge of your bathing tub as you journey through the finest essential oils. Or perhaps enjoy an indulgent foot soak while reading your favourite book.


See our Wellness Tips for inspirations on enjoying Queen of Roses Bath Milk outside the bathroom, to reinvigorate your regal evanescence.

300ml



Shea Butter rich in vitamin A, E and F. Its creaminess nourishes & protects, & stimulates collagen production
Cocoa Butter high in antioxidants, rich in vitamins A and E. Its deeply hydrating & works wonders on stretch marks
Buttermilk moisturises & softens, & works to brighten & reveal new skin caressed skin. Makes an excellent cleanser too!
Rose refines skin texture, reduces redness & soothes inflammation
Geranium promotes cell renewal, balances the skin & regulates hormonal health
Vanilla rich in antioxidants & B-vitamins. Its anti-inflammatory & antibacterial properties encourage skin healing




Queen of Roses Bathing Ritual is all about being lavish. We recommend vintage champagne and fine chocolate as accompaniments! Chill the champagne in advance. Using the wooden scoop provided, sprinkle a few scoops of Bath Milk over a running bath.

Light an extravagant number of candles of various sizes around the bath, from tea lights to pillars - turn your bathroom into a cathedral of light in your honour.

If you buy fresh cut roses, or are lucky enough to have a rose bush in the garden, save the fallen rose petals for this. Liberally scatter rose petals over the full bath as well as on the bathroom floor.

You are now ready to luxuriate in fragrant milk and roses.



No time to bathe? Dissolve a scoop of bath milk in a mug of hot water. Place at your desk to feel like a queen on days when you have forgotten your crown. Treat yourself to some nice chocolate too!

If you're looking for a condensed moment of regal splendour during the day, why not create a truly indulgent foot soak while reading your favourite book.
Related products