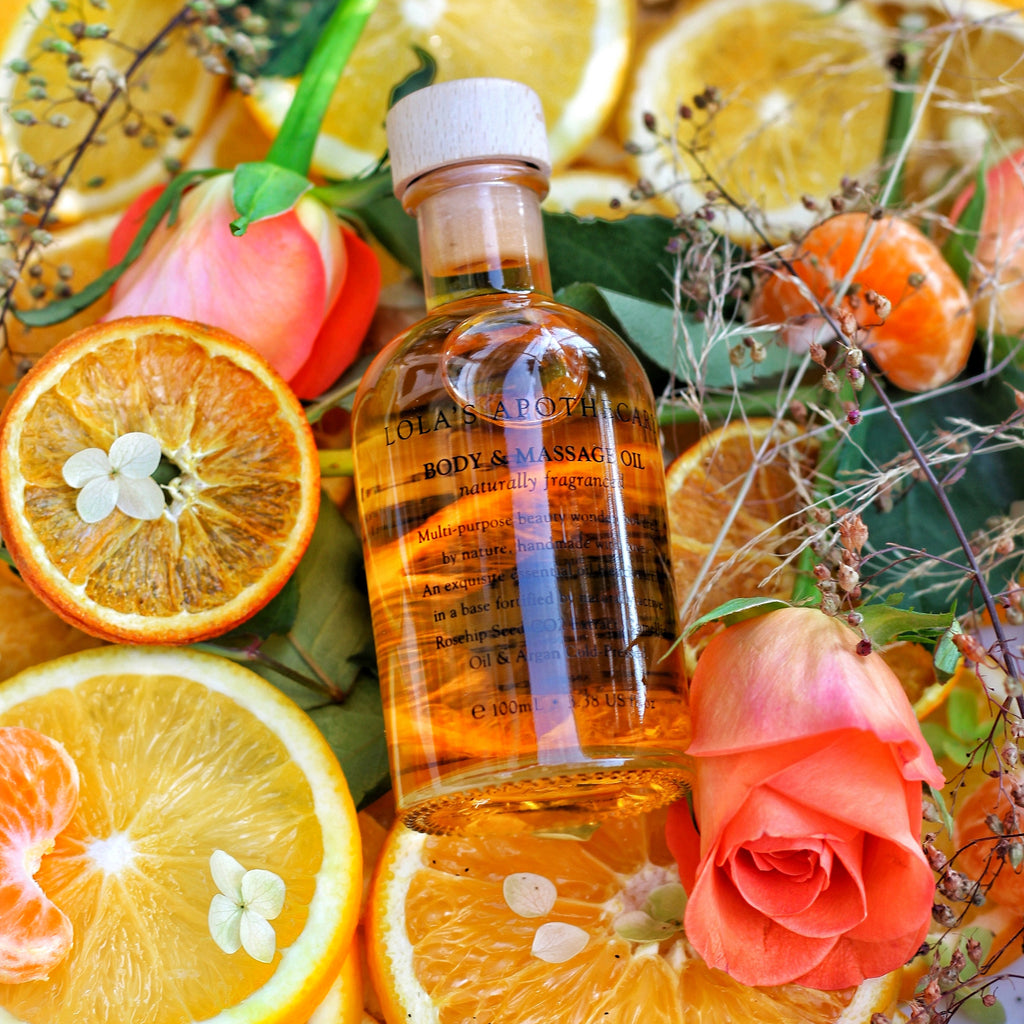 Exclusive Orange Blossom Body & Massage Oil
£47.50
Body Radiance
Healing Ingredients
How To Use
Beauty Tips
Cherish a warming citrus frenzy of uplifting red mandarin, lemon, petitgrain & sweet orange amidst wafts of euphoric vanilla. Embrace this fragrant brightness with notes of invigorating ginger C02 extract & the grounding complexity of green cognac. We developed our delectable Orange Blossom range for the exquisite Montage Hotels & Resorts & it is exclusive to our website & their beautiful spas only. Enjoy this Californian inspired sunshine in a bottle!

This fragrant blend is carried in an exquisite Body & Massage Oil base fortified by naturally active Rosehip Seed CO2 Extract, Camellia Oil & Argan Cold- Pressed. Our luxury natural beauty, spa & wellness wonders are handmade by inspired artisans on our picturesque family estate in the midst of the beautiful English Countryside.

100ml

Rosehip CO2: a rich source of trans-retinoic acid and omega 3, 6 and 9 for skin regeneration. Clinically proven to effectively erase stretch marks, age spots and fine lines.
Argan Oil: one of nature's richest sources of vitamin E for powerful antioxidant action. Potent plant sterols help heal scar tissue and repair sun damage. Improves skin texture and boosts radiance.
Sweet Almond Oil: good source of vitamin E, easily absorbed with excellent emollient property, kind on sensitive skin and great for strong, healthy nails
Peach Kernel Oil: a light yet nourishing oil that improves hair texture and shine
Vitamin E powerful antioxidant to repair free radical damage and improves skin elasticity
Ginger is anti-inflammatory, relieves respiratory, improves heart health, & can relieve depression & anxiety.
Mandarin can renew your complexion & even out skin tone. It improves blood circulation & promotes cellular growth.
Green Cognac is a hair volumizer – it is stimulating to hair roots & can be used to help improve circulation to the scalp.

By far the quickest way to moisturise the entire body is to apply body oil right after a shower. On wet skin (yes, don't dry off yet!), massage a handful of the liquid gold all over the body, moving towards the heart – it takes less than a minute. Moisture from the shower helps the oil sink into the skin, while the loving pressure of massage movement boosts circulation and aids lymphatic drainage.

Rub a drop of oil between your fingers, lightly dab on those pesky dry patches on the face to smooth foundation.
Transform your blow dry by warming a few drops between palms and distributing to the ends of your hair beforehand, to add shine and tame frizz.
Massage some oil into cuticles and nail beds at night for strong, shiny nails. It's a nice little night time ritual to love your body temple.
Apply some oil on your nails after a manicure to help protect the newly applied polish.
Use as a facial cleansing oil to effectively remove makeup. As a sensible precaution, do a patch test first as your face tends to be more sensitive than the skin on your body.
Of course, it makes a great massage oil too. We recommend a candle lit home massage with one of our naturally fragrant candles!
Related products