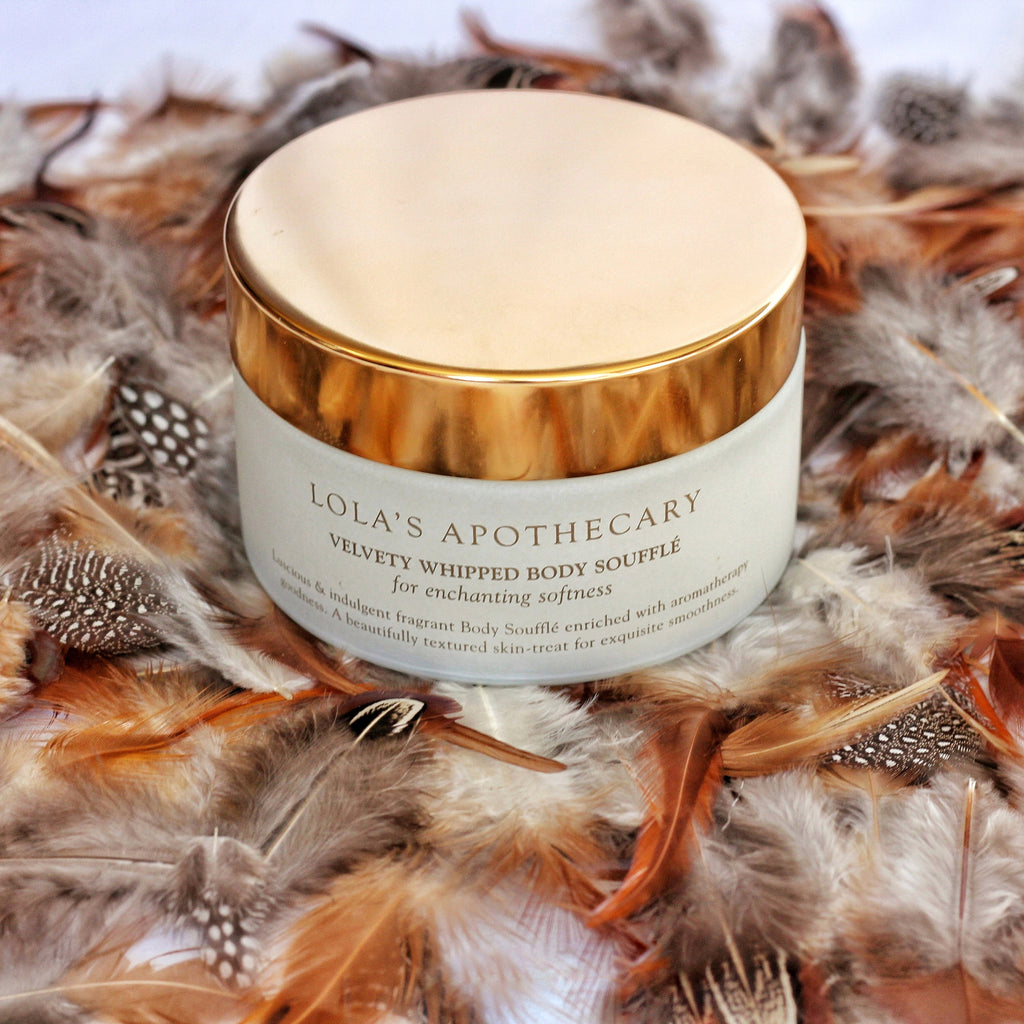 Exclusive Orange Blossom Body Soufflé
£44.00
Body Radiance
Beautiful Ingredients
How To Use
Beauty Tips
Cherish a warming citrus frenzy of uplifting red mandarin, lemon, petitgrain & sweet orange amidst wafts of euphoric vanilla. Embrace this fragrant brightness with notes of invigorating ginger C02 extract & the grounding complexity of green cognac. All our 100% natural fragrances are composed of the finest pure essential oils.

Our heavenly Body Soufflé is designed to melt on your skin, enveloping you in a fragrant cloud of aromatherapy while the nourishing goodness sink in. We whip together shea butter, coconut oil, & rosehip CO2 until it becomes a fluffy meringue. The result is a beauty wonder that is richer than a body lotion, yet lighter than a body butter. You'd be mesmerised by the velvet softness of your own skin! Wonderful for maintaining your tan in summer, as well as for dry winter skin. Also great for protecting delicate skin after shaving or waxing. 

200ml



Rosehip CO2: a rich source of trans-retinoic acid and omega 3, 6 and 9 for skin regeneration. Clinically proven to effectively erase stretch marks, age spots and fine lines.
Shea Butter rich in vitamin A, E and F. Its creaminess nourishes and protects. Stimulates collagen production.
Coconut Oil is rich in vitamin E and beneficial fatty acids. Its disinfectant and antimicrobial properties make it an excellent cleanser.
Vitamin E powerful antioxidant to repair free radical damage and improves skin elasticity.
Ginger 

is anti-inflammatory, relieves respiratory, improves heart health, & can relieve depression & anxiety.

Mandarin can renew your complexion & even out skin tone. It improves blood circulation & promotes cellular growth.
Green Cognac is a hair volumizer – it is stimulating to hair roots & can be used to help improve circulation to the scalp.
Sweet Orange is uplifting yet calming. Also cleansing, stimulating and toning, effective on cellulite and helps ease indigestion.
Vanilla is euphoric & comforting, promotes a sense of well being and tranquillity. Soothes inflammation & is rich in antioxidants. Also an aphrodisiac!






Remember a little goes a long way! It's tempting to drop a big dollop of this delicious Soufflé onto the skin only to be surprised by how far it spreads, which can mislead you into thinking it's too greasy. Start with a small amount, lovingly massage into dry skin. Let the suppleness of your skin guide you to whether you need to layer on some more product.




The Body Soufflé makes an excellent moisturiser after hair removal, as the butters provide a protective barrier over new skin. Also use our beautiful Body Polish a couple of days after waxing to prevent ingrowth hair.
Skin tends to get dry after sun exposure, which contributes towards pre-mature ageing and uneven tanning. To prolong as well as add radiance to your sun kissed skin, generously apply Body Soufflé following your post-sunbathe shower. Continue using it for at least 1 week before switching back to a lighter moisturiser for the summer.
Thirsty winter skin will drink up the Body Soufflé like hot chocolate with cream on top! Use twice a day after morning shower, and also before bed for round-the-clock protection against dry, flaky skin.
As the Body Soufflé is richer and less messy than a Body & Massage Oil, it's ideal for a hand and foot massage and is very popular in our spas. Really work the Soufflé into cuticles and cracked heels, spreading up the forearm or calf for a truly pampering DIY mani or pedi at home.
Related products