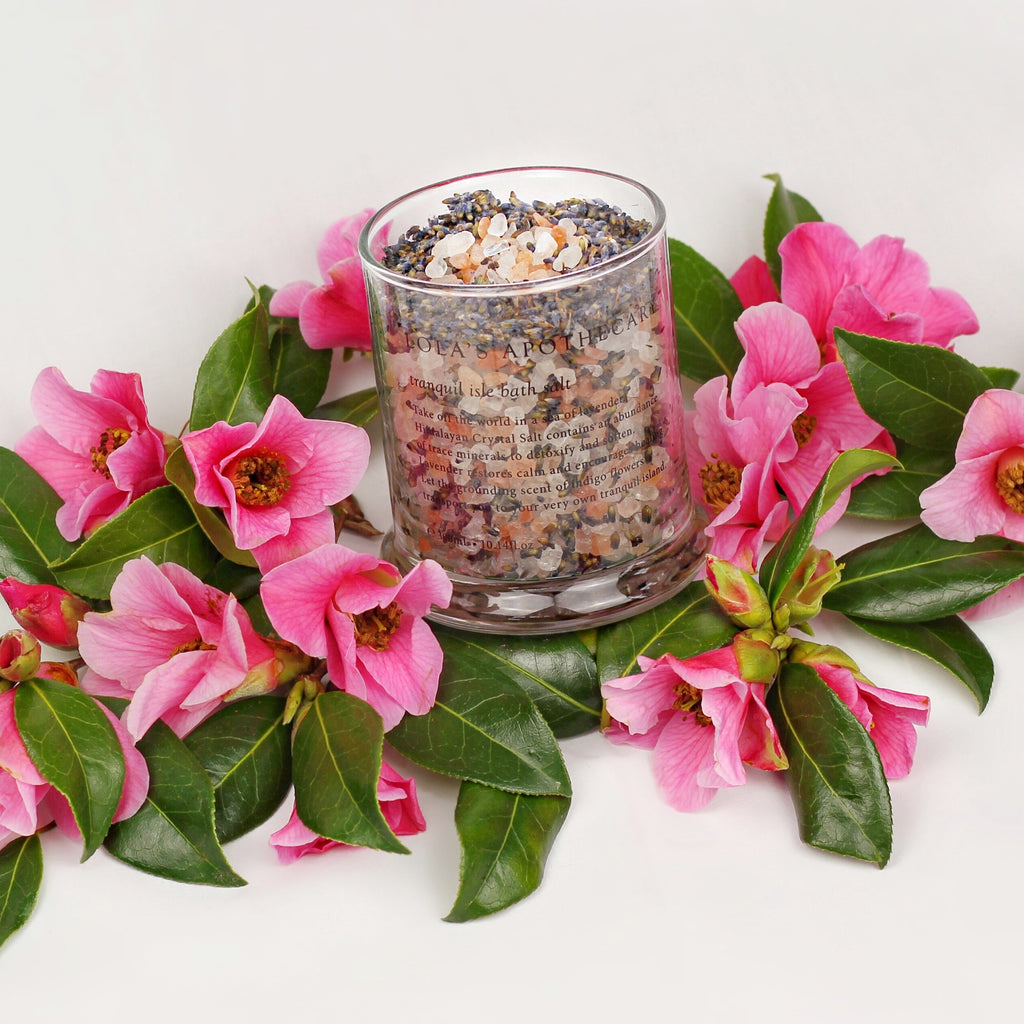 Tranquil Isle Relaxing Bath Salts
£53.50
Bathing Ritual
Healing Ingredients 
How To Use
Wellness Tips
At the luminous heart of this Bath Salt is Tranquil Isle, a grounding blend with a sleepy heart of lavender and roman camomile, supported by an earthy base of cedarwood and vetivert, subtly brightened by a whisper of lemon in the top note. This scent evokes a sense of deep oceanic calm as you drift away across a sea of lavender - the kind of safety and tranquillity that is experienced in restful solitude. All our 100% natural fragrances are composed of the finest pure essential oils.

Just like our legendary Bath & Shower Oils, we saturate our Bath Salt with so much pure essential oils that a small handful is enough for a deeply therapeutic bathing experience. The glistening pink Himalayan Crystal Salt contains an abundance of health giving minerals to detoxify and replenish.

See our Wellness Tips for inspirations on enjoying the Bath Salt outside the bathroom, to bring you fragrance and healing.

300ml



Himalayan Crystal Salt comes from ancient sea beds in the Himalayas. It is one of the purest salts available and contains an astonishing 84 trace minerals beneficial for vibrant health.
Lavender is one of nature's most beloved calming herbs since Roman times. Relieves stress and eases headache. Also a powerful antiseptic to aid healing.
Roman Camomile is a gentle yet powerful sedative. Its anti-inflammatory action soothes sensitive skin.
Vetivert reduces nervous tension and promotes relaxation, an effective sleep aid.




Dim the lights around the home so that when you emerge from your bathing ritual, your serene senses are not re-stimulated. Pour a small handful of Bath Salt into a running bath.

To transform your bathroom into an atmospheric home spa, keep the bathroom door shut while running the bath and turn off any extractor fan. This will enable the rising steam from the bath to fill the space, also to keep the bathroom warm! Light some candles around the bath to create a sacred space. 

Slide into the warm bath. Close your eyes and take a few slow breaths. As your body softens into the watery embrace, allow your senses to be serenaded by the aromatic steam, while your mind unravels from the coil of daily experience.




Harnessing the salt's detoxifying properties, we also like to put little bowls of fragrant bath salt around our home, to scent, energise and cleanse the air.

For a mini mindfulness practice, sit still with the bath salt for a few minutes & inhale the calming aroma of Lavender. Let your world slow down for just a moment & allow your mind to wander to your private tranquil island.
Related products